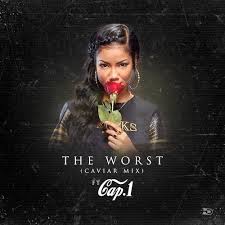 Souled Out is the debut studio album by American R&B recording artist Jhené Aiko, released on September 9, 2014 by Def Jam and ARTium Recordings. After leavingEpic Records in 2003, Aiko took a hiatus from her music career and returned in 2011, with the release of her debut mixtape Sailing Soul(s). The album was released to commercial and critical success and debuted at number three on the US Billboard 200, selling 70,000 copies doubling the first week sales of her debut EP; the album also debuted at number one on the US Top R&B/Hip-Hop Albums and US R&B Albums.
Jhené Aiko, The Worst
Jhené Aiko, the only female artist on this year's 10th Anniversary Rock The Bells Hip-Hop Festival Tour, will release her debut EP SAIL OUT, November 12th on Artium/Def Jam Recordings. Artium/Def Jam is the exclusive label partnership between Island Def Jam Music Group (IDJ) and hit producer No I.D.
The 7-track SAIL OUT EP will include Jhené's single "Bed Peace" featuring Childish Gambino, plus her critically acclaimed debut track of 2012, "3:16am" (featured on VH1's Black Ink Crew). The video for "Bed Peace," described as an homage to John Lennon and Yoko Ono's classic "Give Peace A Chance" film, is being released shortly. Other collaborators on SAIL OUT include Kendrick Lamar, Ab-Soul, and Vince Staples of Cutthroat Boyz. SAIL OUT can be pre-ordered at iTunes on October 29.
The 25-year old Los Angeles native Jhené Aiko is a music business sensation, with more than a decade of experience as a featured singer on singles, albums and mixtapes by an A-list of hip-hop and R&B luminaries, most recently with Kendrick Lamar, Wale, Big Sean, Logic, J. Cole, Drake, and others. Jhené was signed to Def Jam by No I.D., known for his work inside the studio with Kanye West, Big Sean, Rick Ross, Method Man, NAS, and more. Most recently, Jhené was featured on Big Sean's single "Beware" from his Hall of Fame album (executive produced by No I.D.); and is also featured on "From Time" on Drake's brand new album, Nothing Was The Same.