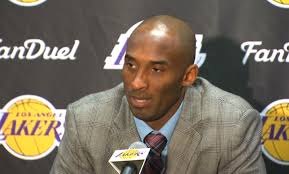 Kobe Bryant, maybe the greatest Laker in the organization's history, announced his plans to retire following the 2015-16 season Sunday.
The announcement came in a letter written for The Players' Tribune.
"This season is all I have left to give," Bryant wrote. "My heart can take the pounding. My mind can handle the grind. But my body knows it's time to say goodbye."
During a 20-year career with the LA Lakers, the 37-year-old has scored 32,683 points, though in recent seasons his form has been hindered by injury.
Bryant is in the midst of his 20th season and struggling like he's never have before. Bryant is shooting a career-worst 31.5 percent from the field and 19.5 percent from 3-point range.
Ranked third on the NBA's all-time scorers list, the two-time Olympic gold medalist averaged more than 25 points in his 1,293 NBA games.
Catch Bryant while you can: his final game is set to be at home against Utah on April 13 — unless the last-place Lakers can pull off the unlikely and qualify for the playoffs.
"I feel very solid in my decision," Bryant told a press conference following his announcement on Sunday. "Do I want to play again or don't I? It's a very simple question, but it's a hard question to look in the mirror and ask yourself. The reality is: No, I don't. So why labor it?"
Bryant's full announcement can be found here.
Here's an excerpt:
I played through the sweat and hurt
Not because challenge called me
But because YOU called me.
I did everything for YOU
Because that's what you do
When someone makes you feel as
Alive as you've made me feel.
You gave a six-year-old boy his Laker dream
And I'll always love you for it.