St. Marteen Package
Join Us on a trip to the
Beautiful Caribbean Island of St. Maarten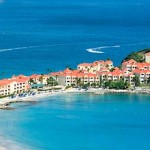 Optional Day Trip to St. Barths & Anguilla / Not Included in Price

Visit St. Maarten…and you get 2 for 1, thanks to an international border between its two sides: Dutch St. Maarten to the south, French St. Martin to the north.
Tourism is king with 500 duty-free shops; Visitors can lounge on 36 sand beaches to visit; or spend time mountain biking, horseback riding, hiking, playing tennis or golf, or water-sports such as sailing, kite-boarding, para-sailing. Other island activities abound for diving, water skiing. snorkeling and windsurfing.
After dark, dine at one of more than 300 restaurants offering French, Dutch, Caribbean, Italian, Chinese, Indonesian, Creole and West Indian menus. Later in the evening, visit one of 12 casinos. Gaming on St. Maarten is "European mode," quiet and sophisticated. Nightclubs in St Maarten are hot !
Our resort offers a casual ambience and view of the Caribbean that's unparalleled. On the resort property, there are a few restaurants, three pools, deluxe health spa, shopping promenade, boutiques, gift shops,  computers and high-speed Internet access and complimentary cocktail parties on Mondays and Thursdays
Call 310-512-6007 & we will contact you

Make Monthly Payments