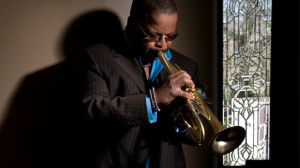 "My latest album, Breathless, is my attempt to underscore the three words: 'I Can't Breathe,'" 53-year-old Blanchard said in a statement. "This is our E-Collective version of a protest album, without the firebrand lyrics of Phil Ochs, but in mood and purpose."
"I can't breathe" were, of course, the last words of Eric Garner; who died in New York City after a police officer placed him in an illegal choke-hold. Although the medical examiner ruled Garner's death a homicide, the police officer that choked him to death, Daniel Pantaleo, was not indited and will not stand trial for causing Garner's death.
Check out the full list of upcoming tour dates below for Terence Blanchard's "Breathless Tour"
April 24: Hanover, NH – Dartmouth College
April 25: Boston, MA – Celebrity Series at Berklee
May 2: New Orleans, LA – New Orleans Jazz & Heritage Festival
May 2: New Orleans, LA – Le Petit Theatre
May 6: Evanston, IL – SPACE
May 7: Omaha, NE – Holland Performing Arts Center
May 8-10: Denver, CO – Dazzle Restaurant & Lounge
May 27-31: New York, NY – Jazz Standard
June 9: Indianapolis, IN – Jazz Kitchen
June 10-13: St. Louis, MO – Jazz at The Bistro
June 14: Los Angeles, CA – Playboy Jazz Festival at Hollywood Bowl
June 16-21: Washington, DC – Blues Alley
July 4: Madera Island, Portugal – Funchal Jazz Festival
July 5: Sussex, UK – Love Supreme Festival
July 6-8: Paris, France – Duc des Lombards
July 10: Rotterdam, Netherlands – North Sea Jazz Festival
July 13: Czech Republic – Bohemia Jazz Fest
July 16: Perugia, Italy – Perugia Jazz Festival
September 16: Los Angeles, CA – Grammy Museum
September 17-18: Monterey, CA – Monterey Jazz Festival
This entry was posted on Saturday, May 30th, 2015 at 9:02 am and is filed under Breaking News . You can follow any responses to this entry through the RSS 2.0 feed. You can leave a response, or trackback from your own site.