Onyx Barbados Cruise Tour 2009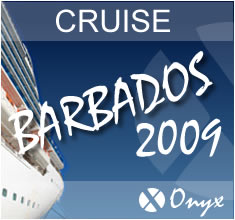 You'll be bewitched by Barbados, whether the spell be cast on your only day on the island or on the last day of your post-cruise  visit. You'll also be bemused, not knowing whether you were captured by the powder puff clouds, the picture  postcard beaches , seas and skies or was it the action – the never-ending opportunities for sport? Shopping  perhaps? The island clothing and accessories, the locally made souvenirs which could have been made from anything from paper or mahogany to glass, grass, seeds or shells? The duty-free savings in clothing, electronics, cosmetics, jewelery, perfume, crystal, china, liquor, cigarettes –all the best brands are also enticing.
You will probably not be totally captivated until you take a sightseeing tour . Then you will discover the secrets of Barbados from the whispering canes, the romantic plantation homes, the military signal stations.
A day's visit to Barbados only scratches the top of the surface. The country is one of incredible depth and will call you like a siren to return. We look forward to welcoming you back!
send us an email at bookings@onyxworldclassevents.com