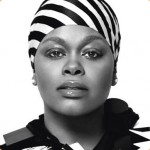 Jill Scott grew up in north Philadelphia and attended Temple University while working two jobs. However, she had to drop out after her junior year when she ran out of money. Jill began her performing career reading her own poetry and attracted a big following in the Pennsylvania/New Jersey/New York area. She was eventually heard by Amir "Questlove" Thompson, drummer for the Philadelphia hip-hop band The Roots, who invited Jill to join the band in the studio. This resulted in the song "You Got Me," which became a Top 40 pop hit for The Roots in 1999.
Jill later collaborated with Eric Benet, Will "Fresh Prince" Smith and the rapper Common, among others, and broadened her performing experience by touring Canada in a production of the Broadway musical Rent. She eventually signed with the Hidden Beach Recordings label, and in July 2000 released her debut album, Who Is Jill Scott? Words and Sounds Vol. 1. The album went on to sell over two million copies and was nominated for the 2001 Grammy for best R&B album. In the summer of 2001, she released a live album – Experience: Jill Scott 826+ – which has sold over half a million copies to date.
In 2004, Jill's third album, Beautifully Human: Words and Sounds Vol. 2 was released, where it peaked at No. 3 on Billboard's albums chart. It has also sold about half a million copies to date. A book of her poetry, The Moments, The Minutes, The Hours was released in April 2005. Also in 2005, she won her first Grammy – Best Urban/Alternative Performance – for the song "Cross My Mind." In 2007 she released two albums: the retrospective duet collection Jill Scott: Collaborations and an album of all-new material called The Real Thing, which focused on, among other things, her recent divorce.
In 2002-2003, Scott took an extended break from recording music. During that time she got married and established the Blues Babe Foundation, a program founded to help young minority students pay for college. The Blues Babe Foundation specifically focuses on students in Philadelphia, Camden, N.J. and the greater Delaware Valley area, and financially supports students between the ages of 16 to 21. The foundation was named after Jill's grandmother.
"When I was growing up, my mother would take me to plays and museums and we'd talk about life. Those times helped shape who I became. Lately I've been going to all these high schools talking to the students, answering their questions, listening to what they have to say. It has been an incredible journey to be around them and try to give them what my mother gave me." – Jill Scott, 2003.